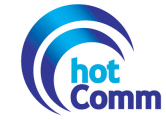 1 License, 2 Computers
Document number: hcrfaq.004
Copyright (c) 2003-2008 1stWorks Corporation. All rights reserved.
---
Applies to: hotComm Lite, hotComm Standard/Pro

You can export a copy of your license and registration to the 1stWorks servers. You can then import the copy into the same or different computers.

This allows you to:


Backup your license/registration. We recommend that before you reformat the hard drive, use disk-washing or registry cleaning software, or do a system restore, please do an export as a backup. You can then import a replacement if necessary.


Transfer your license/registration to other computers. You can install hotComm on any number of computers, import your license/registration into each, and then run hotComm from any of those computers. However, you can connect from only one at a time. To do this, export a copy of the license from one computer, and import it into another.


Restore your license/registration if it becomes damaged. You can import an export you made, or you can import the automatic export that hotComm makes when you put in a new unlock code.


Note: When you enter a new unlock code, hotComm makes an automatic export of your registration and license, and gives you a message with the necessary information. The temporary password is the last 4 characters of the unlock code you just put in.
For how to export and import:
hotComm Standard/Pro: See How to Copy or Move a hotComm License.
hotComm Lite: See How to Copy or Move a hotComm Lite License.
---
Top