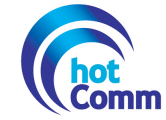 Step-by-Step: hotComm Standard/Pro Download
Document number: HCD.01
Copyright (c) 2003 1stWorks Corporation. All rights reserved.
---
This document shows example hotComm Standard/Pro download screens. It is the first in a series of step-by-step screenshot based guides for installing hotComm Standard/Pro.
---
Download Screens
Click this graphic to start copying the hotComm installer to your computer:





Note 1: To ZoneAlarm Enthusiasts... You MUST grant hotComm Full Permissions.

Click Open or Run, instead of Save.




This screen shows the progress of the file being copied to your computer.




The download is now complete.




The installation program should start automatically after the download finishes. If it does not, click Open or Run to start it.
The first installation screen looks like this:

---
Next step: hotComm Installation Screens.
Return to How to Install hotComm Standard/Pro
Top