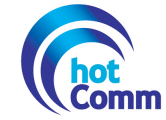 Using Speech Recognition Software
Document number: HCSRS.02
Copyright (c) 2003 1stWorks Corporation. All rights reserved.
---

Professor hotComm likes to use speech recognition software (SRS) to save himself from typing during a hotComm chat session. He uses Dragon NaturallySpeaking.

These are his instructions:
Make sure that the sound card you have can support an external mic and will allow both hotComm and the speech recognition software to share the mic. (You can use hotComm VoIP and speech recognition software at the same time if the sound card supports two applications sharing the mic.)


Make sure that you are using a headset, and make sure that your PC's external speakers are not turned on (the audio from external speakers will be recognized by the speech recognition softwarwe).


Make sure that hotComm is set to send text only when you press the Enter key (in hotComm Lite, you should see a Line button on the lower toolbar; in hotComm Standard/Pro, click the Preferences Wrench button and select Send on Enter).


Launch the speech recognition software.


In hotComm, click in the lower chat panel (the typing area).


Turn the speech recognition software mic on and speak normally.


Optionally, you can turn on both the hotComm mic (VoIP) and the speech recognition software mic at the same time. This will allow you to speak to users who have speakers on and also chat with those who don't.


Pressing the Return key or saying "new line" will send the text into the session transcript window.


---
Top