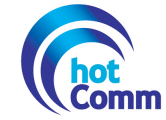 hotComm with PowerPoint
Document number: HCPPT.02
Copyright (c) 2003 1stWorks Corporation. All rights reserved.
To use hotComm with PowerPoint animation:
First, prepare your PowerPoint presentation. In PowerPoint:
Open the PowerPoint file you wish to display.


Size the window as you deem appropriate to display on everyone's screen (i.e. not too large, not too small).


Click the Slide Show menu, and select Set up Show.


Change the radio button to Browsed by an Individual (window) and click OK.


Click the View menu, and select Slide Show.


Then, in hotComm:
Right-click on the hotCam camera icon and select Timed(xs) or Timed(xs)Window. (xs is number of seconds.)


Left-click the hotCam camera icon once. It turns blue and lifts up (it becomes a cursor).


Drag the blue Timed Camera icon on top of the PowerPoint presentation.


Click the PowerPoint title bar to bring the presentation to the front.


Click again anywhere on the presentation and your PowerPoint will then display on the screens of everyone in your hotComm Room.


You may see the hotPointer, which is a cursor that you can use to point to different things on the slide. To turn the hotPointer off and on, click the hotPointer icon (arrow) in the lower left corner of your hotComm window.


You can use the PowerPoint Page Up/Page Down button to advance your PowerPoint slides with animation (which will display at one second intervals).


To control how often the slide changes are sent, click the Options menu, then Preferences, and set hotCam Setup Capture every to the number of seconds you want as the time interval.
---
Top