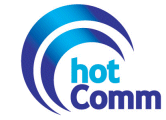 Why do I see this page?
Document number: RC.02
Copyright (c) 2004 1stWorks Corporation. All rights reserved.
---
If you are trying to connect to a hotComm room, you may see this page if:
You clicked a hotLink that is not on an authorized page. Frequently, the authorized page is in a password-protected area. See Try again.


You didn't include www. when you went to the authorized page. Try again, this time including www. See Try again.


Your firewall does not allow your browser to pass referer information, and therefore hotComm cannot identify whether you came from an authorized page or not.

(Referer information is the address of the site you visited when you clicked the link.)

In this case, configure your firewall to allow referer information to be sent to all sites, or to this site: ezpeer.net. For instructions, see FAQ - Firewalls.


---
Try again
Exit hotComm. (Right-click the headset icon in the lower-right corner of the Windows taskbar and select Exit.)
Exit your browser and re-start it. Delete Temporary Internet Files or clear browser cache. How to ...
Restart hotComm. Wait for the earphones on the icon to turn red and blue.
Try the Room link again.

Note: Whenever you exit hotComm, make sure that you wait 15-20 seconds before starting it again.
---
Press to connect to the live hotComm Support Room or send email to [email protected]
---
Top